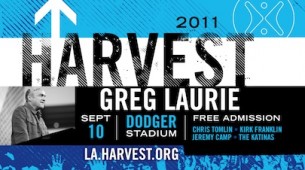 One night only, Saturday, September 10th at 6:00pm, the Los Angeles Harvest Crusade. You can start preparing now by praying about who to bring to the crusade, then invite them to attend. Learn more about the Harvest Crusades and what you can do to help.
We witnessed the mighty work God accomplished at the Anaheim Harvest Crusade. Did you miss out on attending? Did you not get a chance to invite the special someone? You have one more chance this year. Come to the Los Angeles Harvest Crusade with Greg Laurie.
Special musical guests: Chris Tomlin, Jeremy Camp, Kirk Franklin and The Katinas.
---
Share