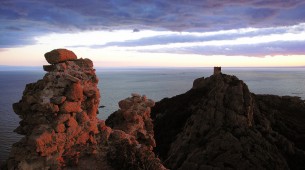 Nothing…ABSOLUTELY…Nothing.
Would you agree with me when I say that in prayer usually WE do all the talking and give God very little time to tell us anything before we say "amen"? Well, this morning I just sat and asked the Lord to speak to me.
In the background I can hear the trains horn blowing & rolling over the tracks, many birds chirping and singing, and some roosters crowing. It's cool this morning and it feels so refreshing as I sit outside and enjoy the sight of light breaking the night's darkness.
Well, in the midst of enjoying the "background music" I mentioned, I keep being drawn to Romans 8:35-39. I'll type it below, but here God is telling me that nothing in this world will EVER separate me from Him and His love…ABSOLUTELY nothing! This was encouraging to me and thought it would also be encouraging to anyone else who needs to hear from God, knowing, or being reminded once more that NOTHING "in all creation, will be able to separate us from the love of God in Christ Jesus our Lord." (Rom. 8:39)
Let Jesus be your Refuge in whom there is nothing that can sweep you off of because He is the immovable Rock, your sure Foundation, the everlasting Prince of peace, King of kings, Lord of lords, the Alpha and the Omega, and He calls us His friends.
Today, know that nothing, ABSOLUTELY nothing, can separate you from the love of God!
"Who shall separate us from the love of Christ? Shall tribulation, or distress, or persecution, or famine, or nakedness, or danger, or sword? As it is written, 'For your sake we are being killed all the day long; we are regarded as sheep to be slaughtered.' No, in all these things we are more than conquerors through Him who loved us. For I am sure that neither death nor life, nor angels nor rulers, nor things present nor things to come, nor powers, nor height nor depth, nor anything else in all creation, will be able to separate us from the love of God in Christ Jesus our Lord." – Romans 8:35-39
---
Share